Online Events in 2022
Dear colleagues and friends,
As the EAPL conference had to be postponed to 2023, we are delighted to announce that a series of online events are to be held this summer and fall. The events will be held on Wednesdays at 3.00pm-6.00pm/6.30pm (CEST). The first event is to be held on 17th August 2022. These events will focus on various aspects of Psychology and Law:
Vulnerability in Forensic Settings (17th August 2022),
Criminal Profiling and Crime Linkage (31st August 2022),
Asylum Interviewing and Decision Making (28th September 2022).
Each event will include relevant keynote speakers, a roundtable discussion and student/ early career presentations. Finally we will be holding an event to discuss the EAPL White Paper Draft on Child Interviewing Practices.
Further details will be posted in the Conference Section! Please, also follow us on twitter.
---
UPDATE!

Conference in 2023
Annual EAPL Conference in Cluj-Napoca (Transylvania, Romania) postponed (again) to 2023
Dear colleagues and friends,
we are very sad to inform you, that we decided not to organize a physical conference this year (2022). Too many factors are uncertain for the organizers in Romania (guided tours, travel, willingness to take the risk to travel, …). The very good news is that Laura Visu-Petra (@LauraPeVis) is still willing and even eager to organize the conference in 2023! We immediately fixed the dates as a function of availability of rooms at the university and of staff to help Laura. The dates will be July 4th (Tuesday) to July 7th (Friday) 2023.
Stay healthy, stay tuned! The EAPL board.
PS: We also keep you updated at www.eapl2022.ro or on Twitter: https://twitter.com/e_a_p_l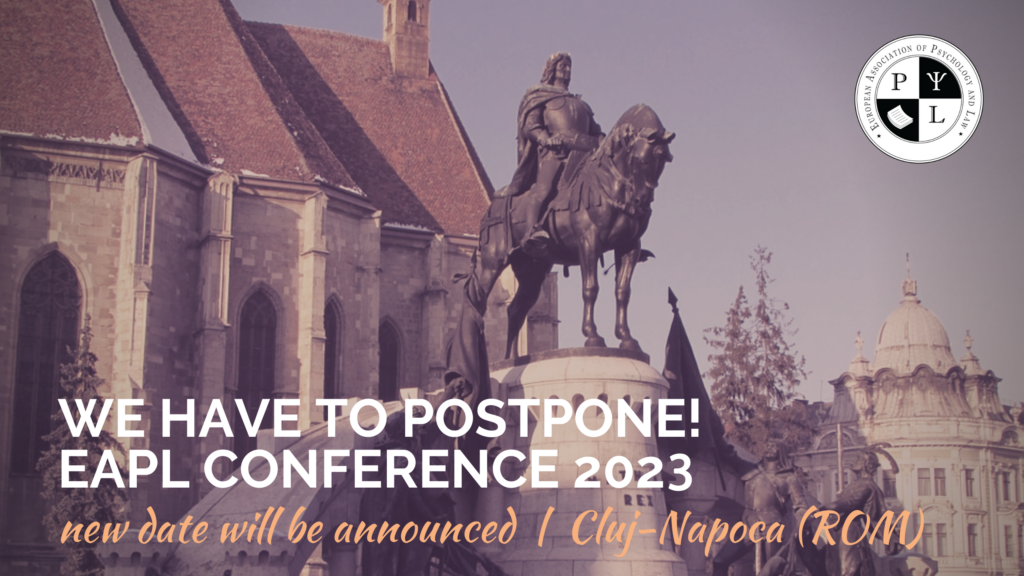 ---
Reprise of the V-EAPL Conference 2021 (August 23-27)
Dear members and friends of the EAPL,
what an amazing event! We had three consecutive half-day sessions with keynotes, life talks, pre-recorded sessions, posters, and many more! And there was even more: Social events that we enjoyed so much!
We are now looking foreward to see everybody in Cluj-Napoca, Romania in 2023! Keep yourself updated at www.eapl2022.ro or on Twitter: https://twitter.com/e_a_p_l
---
Retrospection of the 2019 conference in Santiago de Compostela
The 2019 EAPL conference took place in Santiago de Compostela, Spain, on July 17-20.  The scientific program was addressing the key issues in psychology and law. Different areas of forensic psychology and criminology were  explored, such as eyewitness testimonies, investigative interviews, lie detection and credibility assessment, risk assessment, recidivism, treatment of offenders and victims. Researchers and practitioners from Europe and other parts of the World were invited to share their recent scientific work and field experience concerning new challenges faced in legal processes.
---
Proceedings of the Conference in Santiago de Compostela (2019) online now !
Thanks to Ramón Arce and his team you can get the Conference Proceedings for free fom Sciendo:
Arce, R. (Ed.). (2020). Psychology and Law: Research for practice. Sciendo. https://doi.org/10.2478/9788395669682.
---
Upcoming Conferences
EAPL 2023 will take place in Cluj-Napoca, Romania. The dates are: July 4th (Tuesday) to July 7th (Friday) 2023. Please checkout the dedicated website: www.eapl2022.ro.
---
Previous Conferences

| | | |
| --- | --- | --- |
| 2021 | Virtual EAPL Conference 2021 | https://eapl.eu/conferences/veapl2021 |
| 2020 | Virtual EAPL Conference 2020 | https://eapl.eu/veapl-2020 |
| 2019 | Santiago de Compostela, Spain | http://sepjf.org |
| 2018 | Turku, Finland | https://eapl2018.fi/ |
| 2017 | Mechelen, Belgium | |
| 2016 | Toulouse, France | |
| 2015 | Nuremberg, Germany | |
| 2014 | Saint Petersburg, Russia | |
| 2013 | Coventry, United Kingdom | |
| 2012 | Nicosia, Cyprus | |
| 2011 | Miami, USA | |
| 2010 | Gothenburg, Sweden | |
| 2009 | Sorrento, Italy | |
| 2008 | Maastricht, Netherlands | |