Conferences
Please help us!
…to collect all the brilliant talks and posters of this year's EAPL conference. To do so, just write an e-mail! Adding something to the deposit is easy. Send an email to the following address(es) from the email account you would like used on the OSF:
The format of the email should be as follows:
Subject
Presentation title. Please add the date (e.g. 1707, and the session: or=oral communications, ap=applied session, sy=symposia, wr=written reports + number). For example: 1907-sy5-The multifarious nature of psychopathy
Message body
Presentation abstract (if any)
Attachment
Your presentation file (e.g., PowerPoint, PDF, etc.)
Once sent, we will follow-up by sending you the permanent identifier that others can use to cite your work; you can also login and make changes, such as uploading additional files, to your project at that URL. If you didn't have an OSF account, one will be created automatically and a link to set your password will be emailed to you; if you do, we will simply create a new project in your account. By creating an account you agree to osf.io Terms and that you have read our Privacy Policy, including our information on Cookie Use.
The deposit may be reached under https://osf.io/meetings/EAPL2019.
Retrospection
The 2019 EAPL conference took place in Santiago de Compostela, Spain, on July 17-20. Follow @EAPL2019 on Twitter!
Please visit the official 2019 conference website!
NEW: Follow @EAPL2019 on Twitter!
The scientific program will address the key issues in psychology and law. Different areas of forensic psychology and criminology will be explored, such as eyewitness testimonies, investigative interviews, lie detection and credibility assessment, risk assessment, recidivism, treatment of offenders and victims. Researchers and practitioners from Europe and other parts of the World are invited to share their recent scientific work and field experience concerning new challenges faced in legal processes.
Upcoming Conferences
EAPL 2020 will take place in Cluj-Napoca (Romania) on September 16-19.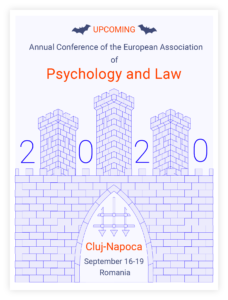 Further information about the Conference will be coming soon!
Previous Conferences

| | | |
| --- | --- | --- |
| 2018 | Turku, Finland | https://eapl2018.fi/ |
| 2017 | Mechelen, Belgium | |
| 2016 | Toulouse, France | |
| 2015 | Nuremberg, Germany | |
| 2014 | Saint Petersburg, Russia | |
| 2013 | Coventry, United Kingdom | |
| 2012 | Nicosia, Cyprus | |
| 2011 | Miami, USA | |
| 2010 | Gothenburg, Sweden | |
| 2009 | Sorrento, Italy | |
| 2008 | Maastricht, Netherlands | |