Conferences
September 16-19 2020: Annual EAPL Conference in Cluj-Napoca (Transylvania, Romania)
Next years' EAPL Annual Conference will take place September 16-19 in the wonderful land of Transylvania, Romania! From now on, you can follow the conference website for updates about keynotes speakers and more!
www.eapl2020.ro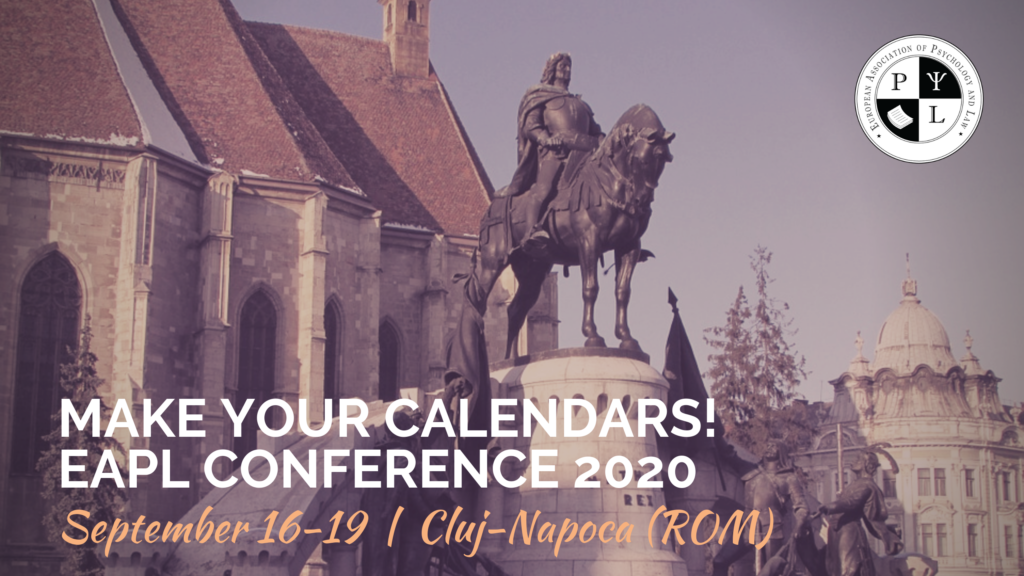 Retrospection 2019
The 2019 EAPL conference took place in Santiago de Compostela, Spain, on July 17-20. Follow @EAPL2019 on Twitter!
The scientific program will address the key issues in psychology and law. Different areas of forensic psychology and criminology will be explored, such as eyewitness testimonies, investigative interviews, lie detection and credibility assessment, risk assessment, recidivism, treatment of offenders and victims. Researchers and practitioners from Europe and other parts of the World are invited to share their recent scientific work and field experience concerning new challenges faced in legal processes.
Upcoming Conferences
EAPL 2021 will take place in … – more infos to com!
Previous Conferences

| | | |
| --- | --- | --- |
| 2019 | Santiago de Compostela, Spain | http://sepjf.org |
| 2018 | Turku, Finland | https://eapl2018.fi/ |
| 2017 | Mechelen, Belgium | |
| 2016 | Toulouse, France | |
| 2015 | Nuremberg, Germany | |
| 2014 | Saint Petersburg, Russia | |
| 2013 | Coventry, United Kingdom | |
| 2012 | Nicosia, Cyprus | |
| 2011 | Miami, USA | |
| 2010 | Gothenburg, Sweden | |
| 2009 | Sorrento, Italy | |
| 2008 | Maastricht, Netherlands | |