Remote Activities Coming up!
In order to create an opportunity for researchers to present their research and for us all to meet, We will organize remote activities on three consecutive days:
September 23, 24 and 25, between 14.00 and 17.00 Brussels time.
Save the dates, and time slots! More info will be communicated soon!
UPDATE!

Conferences
Annual EAPL Conference in Cluj-Napoca (Transylvania, Romania) postponed
Dear colleagues and friends,
It is with sincere regret that we have to announce that the EAPL conference in September 2020 in Cluj Napoca is cancelled and postponed to 2021. The decision to cancel has unfortunately become unavoidable. Even if travel and event restrictions might no longer apply in September, it is impossible to plan for such an event in the moment. We are extremely grateful that Laura Visu-Petra and her team are willing to host the conference in Cluj-Napoca in 2021 as well. Exact dates will be announced later. So we look forward to seing you in 2021 in Romania. Stay healthy!
EAPL board
PS: We also keep you updated on www.eapl2020.ro or on Twitter: https://twitter.com/e_a_p_l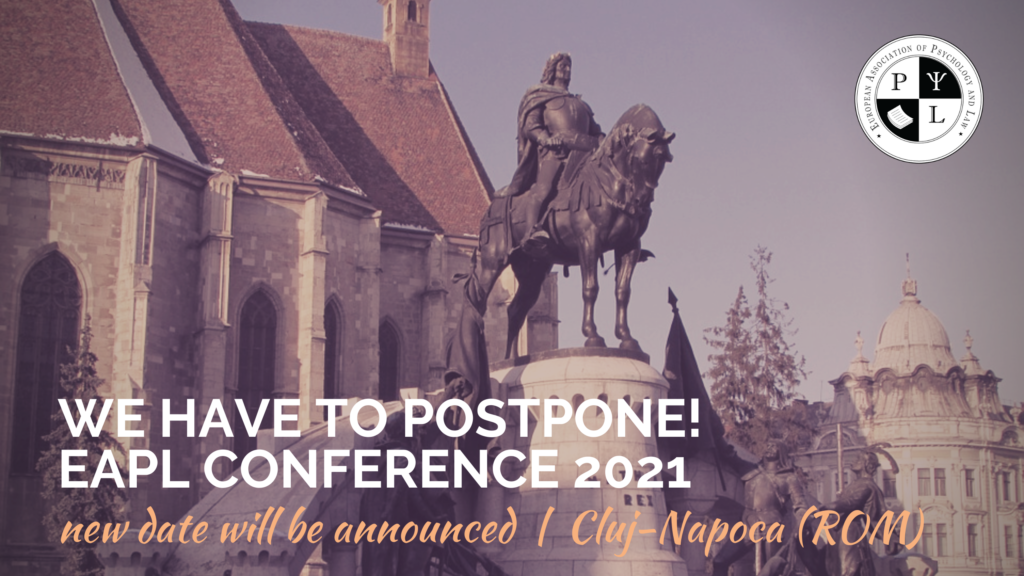 Retrospection 2019
The 2019 EAPL conference took place in Santiago de Compostela, Spain, on July 17-20.  The scientific program was addressing the key issues in psychology and law. Different areas of forensic psychology and criminology were  explored, such as eyewitness testimonies, investigative interviews, lie detection and credibility assessment, risk assessment, recidivism, treatment of offenders and victims. Researchers and practitioners from Europe and other parts of the World were invited to share their recent scientific work and field experience concerning new challenges faced in legal processes.
Upcoming Conferences
EAPL 2022 will take place in … – more infos to com!
Previous Conferences

| | | |
| --- | --- | --- |
| 2019 | Santiago de Compostela, Spain |  http://sepjf.org |
| 2018 | Turku, Finland |  https://eapl2018.fi/ |
| 2017 | Mechelen, Belgium | |
| 2016 | Toulouse, France | |
| 2015 | Nuremberg, Germany | |
| 2014 | Saint Petersburg, Russia | |
| 2013 | Coventry, United Kingdom | |
| 2012 | Nicosia, Cyprus | |
| 2011 | Miami, USA | |
| 2010 | Gothenburg, Sweden | |
| 2009 | Sorrento, Italy | |
| 2008 | Maastricht, Netherlands | |