About EAPL Student
EAPL-S is a subdivision of the European Association of Psychology and Law, and aims to provide students a cohesive, well-maintained, and excitingly innovative student society. You can visit the website of the EAPL-S here: https://eaplstudent.com/
By building bridges between students and professionals in psychology and/or law throughout the world, EAPL-S hopes to support the students of today and the scientific community of tomorrow.
To do this, the EAPL-S will:
Provide opportunities for students to network within psychology and law
Establish student-oriented incentives at related conferences and events
Provide funding opportunities to increase student mobility and research internationally
Encourage collaborations between students
Encourage collaborations between established researchers and students
Provide resources to attract students to Psychology/Law
If you are a motivated student in any field related to Psychology and Law, join us today!
NEWS: The EAPL-S board is very happy to announce that this year, there will be a pre-conference workshop in advance of the EAPL19 in Santiago, Spain!
It will be held by Dr. Julia Korkman who is an expert in the area of investigative interviewing and evidence-based assessments of child abuse allegations.
During the workshop, Julia will talk about children's memory functioning and its implications for interviews. Then, based on case examples from her work in the field, she will talk about true and false sexual abuse allegations. Finally, we will discuss interview techniques and do some exercises to put it all into practice.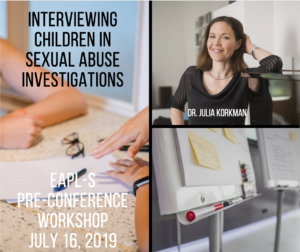 You can sign up here: https://eaplstudent.com/pre-conference-workshop/